Оперативният директор на БЪЛГЕРИАН ПРОПЕРТИС пред БНТ: Целта на новия закон е сделките да се плащат само по банков път
2009-12-17 | БЪЛГЕРИАН ПРОПЕРТИС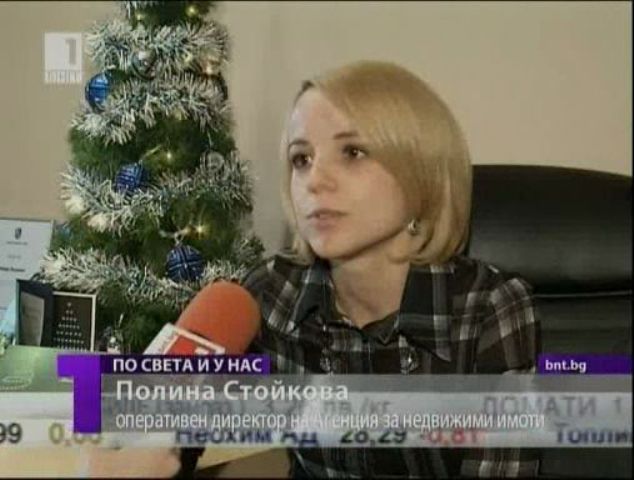 Оперативният директор на БЪЛГЕРИАН ПРОПЕРТИС Полина Стойкова даде интервю пред БНТ във връзка с измененията на Закона за нотариусите и нотариалната дейност, за които се очаква да влезнат в сила през 2010 г. В момента измененията са приети от Министерски съвет. Полина Стойкова коментира, че според измененията всички разплащания по имотни сделки ще стават само по банков път и сделката ще се изповяда пред нотариуса на реална цена.

В момента сделките често се сключват на цена около данъчната оценка на имота, а реалната пазарна стойност се доплаща след договорка между продавача и купувача, спестявайки по-високата нотариална такса.

Според правителството предложените промени ще допринесат за предотвратяване укриването на истинската цена при сделките с недвижими имоти, за облагане с данък при придобиване на имущество по възмезден начин по действително уговорената цена, за изясняване произхода на средствата по сделката и за противодействие на изпирането на пари.

Според наблюденията и опита на БЪЛГЕРИАН ПРОПЕРТИС през последните години все повече хора сключват сделки на реални цени и предпочитат разплащания по банков път, тъй като това гарантира доказуемост на плащанията и по-голяма сигурност при размяната на паричните средства.

Накратко за промените:

С промените в закона страните ще се задължат да се разплащат само по банков път и в тази връзка страните ще трябва да представят нотариално заверени декларации пред нотариуса, че цената, посочена в нотариалния акт е действителната цена, ако са се разплатили преди подписването на акта. Ако разплащането става след подписването на акта ще има две възможности (но само по банков път): едната възможност ще е по банкова сметка в избрана от тях банка, като сметката трябва да е посочена в нотариалния акт, а втората възможност - по специална сметка на нотариуса, върху която няма да се допуска принудително изпълнение.

Гледайте материала по БНТ:


Get the Flash Player to see this player.
Прочетете повече за промените в Закона за нотариусите и нотариалната дейност
---
Авторски права: 2009 Бългериан Пропертис ООД. Всички права запазени. За повече информация или съвет, моля свържете се с нас на тел. 02 9 11 50 или ни пишете на имейл: info@bulgarianproperties.com. Използването на тази статия от трети страни е разрешено само ако източникът www.BulgarianProperties.bg и Авторът на статията бъдат надлежно цитирани. Данните в този материал са събрани от Автора и от Бългериан Пропертис ООД и целта им е изцяло информативна. Направили сме всичко възможно да предоставим максимално точна информация. Бългериан Пропертис ООД не носи отговорност за каквито и да е загуби или щети, причинени или в резултат на решения, взети на базата на информацията, предоставена в тази статия.
© Бългериан Пропертис ООД 2009.
прочети повече статии