Мениджърите на БЪЛГЕРИАН ПРОПЕРТИС коментират пазара на ваканционни имоти по PRO.BG
2010-11-05 | БЪЛГЕРИАН ПРОПЕРТИС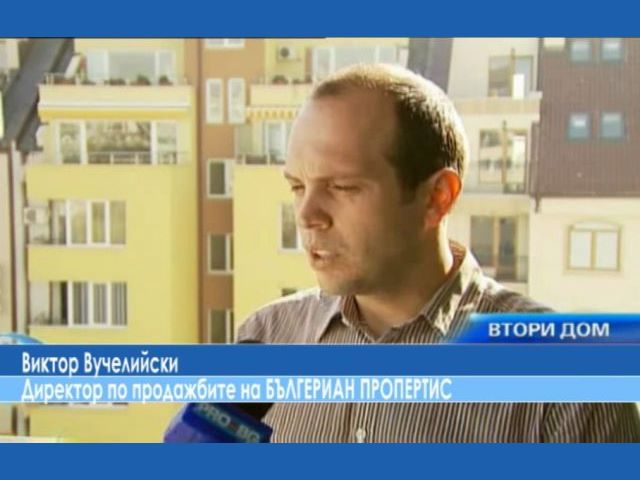 Мениджърите на БЪЛГЕРИАН ПРОПЕРТИС Полина Стойкова и Виктор Вучелийски коментираха за централната емисия новини на PRO.BG на 2.11.2010 пазара на ваканционни имоти в България.

Според експерти данните за зимния туристическия сезон са оптимистични, но според репортажа данните на пазара на ваканционни имоти в момента са доста противоречиви.

Доволните туристи са най-голямата реклама за имиджа на България. Пазарът на ваканционни имоти ще се съживи тогава, когато хората, посетили страната ни искат да създадат тук свой втори дом. Добрата инфраструктура е от голямо значение, а в момента строежът на магистрали е приоритет на правителството.

Според репортажа в момента тенденциите на пазара на ваканционни имоти са тревожни. Традиционните купувачи се оттеглиха от пазара, а крупни инвеститори замразиха проектите си. В някои случаи т.нар. втори дом вече може да бъде купен под строителна себестойност. Цените на имоти в някои ваканционни комплекси се сринаха с до 70%. Тези критично ниски нива доведоха и до сключването на сделки през летния сезон.

Полина Стойкова коментира ситуацията с имотите в морските ни курорти така: "Средните цени продължават да бъдат между 350 и 700 евро на кв.м. в морските курорти, като средната цена на закупените апартаменти според данните на БЪЛГЕРИАН ПРОПЕРТИС е около 38 000 евро."

Що се отнася за ски имотите в момента основните купувачи продължават да бъдат руснаците, като в планинските райони те търсят напълно готови апартаменти с възможност за отдаване под наем.

По темата за имотите в планинските ни курорти Виктор Вучелийски сподели, че имотите в добрите комплекси държат цени и там собствениците/инвеститорите не са съгласни да намаляват драстично цените. Според него има един установен минимум около 700-750 евро на кв.м. в добре работещите комплекси с добър мениджмънт и много екстри.

Ваканционни имоти в планински курорт

Ваканционни имоти в морски курорт

Ваканционни имоти с намалени цени


Get the Flash Player to see this player.
---
Авторски права: 2010 Бългериан Пропертис ООД. Всички права запазени. За повече информация или съвет, моля свържете се с нас на тел. 02 9 11 50 или ни пишете на имейл: info@bulgarianproperties.com. Използването на тази статия от трети страни е разрешено само ако източникът www.BulgarianProperties.bg и Авторът на статията бъдат надлежно цитирани. Данните в този материал са събрани от Автора и от Бългериан Пропертис ООД и целта им е изцяло информативна. Направили сме всичко възможно да предоставим максимално точна информация. Бългериан Пропертис ООД не носи отговорност за каквито и да е загуби или щети, причинени или в резултат на решения, взети на базата на информацията, предоставена в тази статия.
© Бългериан Пропертис ООД 2010.
Още новини