БЪЛГЕРИАН ПРОПЕРТИС участва в дискусия с представители на най-големите компании за недвижими имоти
2009-12-17 | БЪЛГЕРИАН ПРОПЕРТИС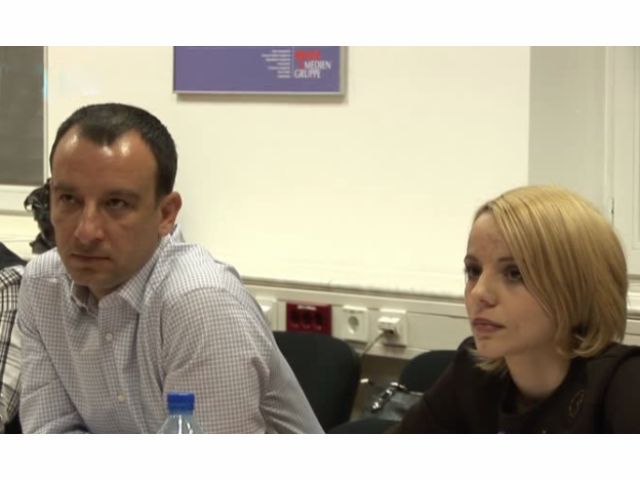 Изпълнителният директор на БЪЛГЕРИАН ПРОПЕРТИС Михаил Чобанов и оперативният директор на компанията Полина Стойкова участваха в дискусия, организирана от списание "Имам имот" на 14 декември в София, на която присъстваха представители на най-големите компании за недвижими имоти в страната. Темите на дискусията бяха свързани с тенденциите на пазара, цените, ефекта на кризата за различните пазарни сегменти, ролята на държавата и на банките и очакванията за 2010 г.

Експертите в бранша се обединиха около няколко основни извода от изминалата кризисна година за пазара на недвижими имоти в България:
• Пазарът претърпя корекции, регулира се и от него отпаднаха непрофесионалните строители, посредници и спекулативните купувачи
• Цените на имотите спаднаха с около 30-35% на годишна база
• Имотите с по-ниско качество се реализират на по-ниски цени от имоти със сходни параметри, но с високо качество на строителството, проектирането и изпълнението
• Купувачите са водещата страна при преговорите за покупка на имот, а продавачите са доста по-гъвкави и готови за преговори в цената
• Банките спазват рестриктивна кредитна политика и имат сериозни изисквания към кредитополучателите

Михаил Чобанов подчерта, че от половин година насам има стабилизация около определен обем от нови сделки на месец, а офертните цени продължават да падат. Всеки месец носи със себе си различна динамика и различни типове активни купувачи, т.е. пазарът все още в голяма степен е непредсказуем и може би ни очакват още няколко доста тежки месеца. За възстановяване на пазара от гледна точка на по-голям обем от сделки може би можем да говорим от средата на следващата година.

Относно жилищните комплекси в големите градове – преселването на хора от малките към големите населени места продължава и съответно ще има търсене на имоти в големите градове и в бъдеще. Предлагането на такива имоти, макар и голямо, не е толкова огромно на фона на жилищните нужди на хората. Да не говорим, че голяма част от българите все още жиевят във вече морално остарели условия и един ден те ще сменят жилищата си с по-нови и по-качествени.

Цените на ваканционните имоти паднаха най-бързо и съответно най-бързо започна да се възвръща и интереса към тях – имаме много добри цени и вече много българи дори притежатели на ваканционни имоти в България.

Гледайте основните моменти от дискусията:


Get the Flash Player to see this player.
Селекция от апартаменти в София под 800 евро на кв.м.
Разгледайте нашите
НАЙ-ИЗГОДНИ ОФЕРТИ
Разгледайте нашите
ИМОТИ С НАМАЛЕНИ ЦЕНИ
---
Авторски права: 2009 Бългериан Пропертис ООД. Всички права запазени. За повече информация или съвет, моля свържете се с нас на тел. 02 9 11 50 или ни пишете на имейл: info@bulgarianproperties.com. Използването на тази статия от трети страни е разрешено само ако източникът www.BulgarianProperties.bg и Авторът на статията бъдат надлежно цитирани. Данните в този материал са събрани от Автора и от Бългериан Пропертис ООД и целта им е изцяло информативна. Направили сме всичко възможно да предоставим максимално точна информация. Бългериан Пропертис ООД не носи отговорност за каквито и да е загуби или щети, причинени или в резултат на решения, взети на базата на информацията, предоставена в тази статия.
© Бългериан Пропертис ООД 2009.
Още новини